Variant Battlescar
Gazing down the barrel reveals a clarity of purpose. A single minded mission devoid of right or wrong. The Variant Battlescar™ understands this unequivocally. The raw shell, tinted in variegating shades of dark earth and covert green, it is truly unique amongst its contemporaries. It is both unrefined and elegant. A natural beauty with a penchant for three round bursts.
$400.00 Suggested Retail USD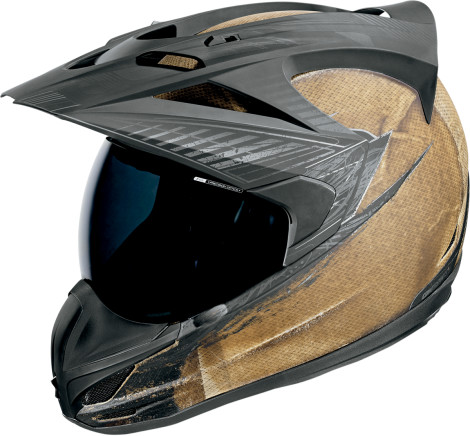 All world standard, meets or exceeds the following:DOT FM VSS 218 (US), ECE 22-05 (EURO PE), SAI AS1698 (AUSTR ALI A) & SG (JAPAN)S AFET Y AND TESTING SANDARDS . does not ship with sai or sg certification stickers unless purchased from an authorized dealer in that country.
Fiberglass / Dyneema / Carbon fiber shell
Long oval headform
Wind tunnel tested and refined
Anti-lift visor to reduce glare
Multiple oversized intake and exhaust ports
Molded EPS nose reduces shield fogging
Quick-change fog-free shield
Fully removable/washable HydraDry™ interior
Rear spoiler for reduced helmet buffeting
Removable chin curtain
Dark Smoke shield included
Do you have a question about this product?
Include your question or comments below.
We will reply as soon as possible.

Okay, this is the most badass helmet I have ever seen and I have to have it. Can you hook me up? I can't pay 400 for it. I will send you my brand new Arai Profile helmet in some kind of an exchange! Please? You will get an amazing endorsement from someone who works with a lot of Bike enthusiasts at Boeing! What do I have to do? Help me get your helmet! Thank You!

Thanks for the support, however we do not accept competitor's gear in exchange for our own.

---