Overlord Prime Leather Pant
We built the Overlord leather pant for the street*. They are not a race derivative track pant poorly repurposed for the urban environment. They are street specific and here's why. Crafted from the same 1.2-1.4 mm leather as our Overlord jacket, the Overlord leather pant is more than durable enough for the most brutal of street duty. The street specific pattern accommodates the aggressive ergonomics of modern sportbikes while greatly reducing the all too common butt sag when standing. Mechanical flex zones and integrated stretch cordura panels enhance on-bike mobility. Over the boot leg patterns eliminate the racetrack refugee look by allowing your boots to fit under the pant. The integrated plastic knee armor provides enhanced joint abrasion protection should you decide to put these pants to the ultimate test. A three quarter length zipper allows the pant to be connected to any of the Overlord leather jackets.

*To nip your question in the bud - no, there is no knee puck. We built these pants for the street not track, and dragging knee on the street, as we were recently informed by an irate law officer, is frowned upon.
$233.00 - $248.00 Suggested Retail USD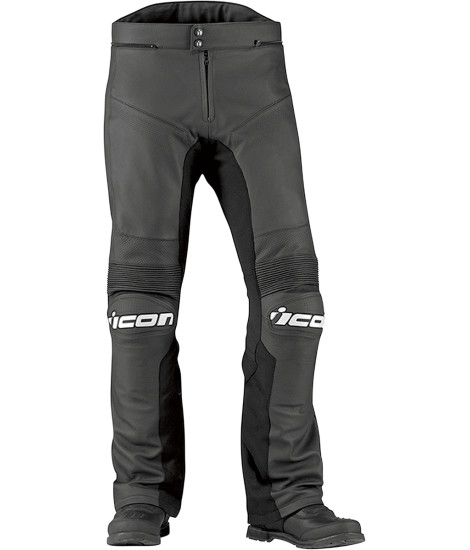 ICON attack fit
1.2-1.4MM Premium grade leather chassis
Removable CE knee impact protectors
Integrated hip/thigh padding
Gathered stretch panels for comfort and flexibility
Breathable panels for venting
Strategically placed perforated leather for ventilation
Premium YKK® zippers