Proshield
The Icon Proshield™ (IC-02) is fitted with a helmet shield lock to keep your shield securely closed. Sideplates (sold separately) mount to each side of the Proshield™ for a more custom, finished look. The Proshield™ will not fit the Airmada™, Alliance SS™, Alliance SSR™, Mainframe™, or Domain™ (1) helmets.
$10.00 - $50.00 Suggested Retail USD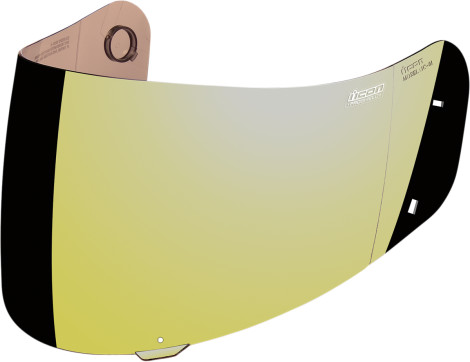 Do you have a question about this product?
Include your question or comments below.
We will reply as soon as possible.

I just bought an Alliance Helmet on the 19th of August and there was an included sheet saying the proshield in rst silver is $35 but your site has it listed at $40. What is the conflict in price?

There has been a slight price increase since the date of manufacture on older style Alliance Helmets. The current price for the RST Silver Proshield is $40.

---

I just bought an alliance helmet on the 19th of August and there was an included sheet saying the proshield in rst silver is $35 but your site has it listed at $40. What is the conflict in price?

The RST Proshield is $40.

---

How much for the part i listed below Black 0133-0310 I have a Icon Helmet Freaky Tiki Black Large (0101-5452) and its so comfortable, i want to fix it.

The Proshield Pivot Kit is $10.00.

---

Hi, does the dark smoke proshield provide any uv protection?

I have a icon domain decay helmet. The ratcheting part or lock used to keep my windscreen on is broken. Will this fit my helmet? Its a size large.

The Proshield Pivot Kit will fit, but the Domain does not have a pinlock. This means the hole would be open on your new visor so I would not recommend you use that visor. Also, your helment is over 5 years old so it may be time for a replacement.

---