Alliance Reflective
Abstract visual cues taken from airborne harbingers of shock and awe. With its integrated reflective panels spin disadvantage on it's head and turn their own headlights against them. Proceed on course, throttle full.
$150.00 Suggested Retail USD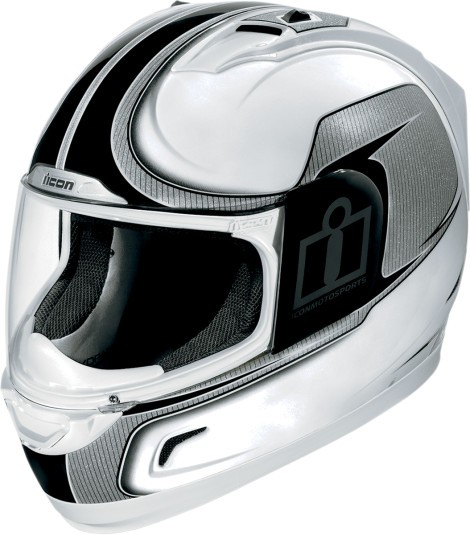 All world standard, meets or exceeds the following: DOT FMVSS 218 (US), ECE 22-05 (EUROPE), SAI AS1698 (AUSTRALIA) & SG (JAPAN) safety and testing standards. Does not ship with SAI OR SG Certification stickers unless purchased from an authorized dealer in that country.
INJECTION MOLDED POLYCARBONATE SHELL FOR STRENGTH
Long oval headfoam
WIND TUNNEL TESTED AND REFINED
MOLDED TWIN CHANNEL SUPERVENT FOR INCREASED COOLING
REAR EXHAUST PORTS PREVENT HEAT BUILDUP
REMOVABLE MOLDED BREATH DEFLECTOR REDUCES SHIELD FOGGING
CHIN VENTING SYSTEM REDUCES SHIELD FOGGING
Fully removable/washable HydraDry™ interior
Quick-change for-free Proshield™ with sideplates
Prolock™ shield locking system
Do you have a question about this product?
Include your question or comments below.
We will reply as soon as possible.

I was riding with my clear Pro shield today on my new Alliance helmet. I thought I was in a friggin terrarium! It was cracked open far enough that the rain was blowing in. Can I use Rain-X on outside? How come micro fiber cloths stick to inside and won't wipe? Ain't very safe if I can't see out. Little help please...

We do not recommend using Rain-X since we cannot guarantee how it would react with the visor. Additionally, the manual states that you should not clean the inside of the visor. Your microfiber sticks because of the anti-fog coating that is on the inside. That coating may now be damaged since it has been wiped, which would also explain the blurriness.




We would recommend purchasing a new visor.

---