ICON 1000 Elsinore Boot
The Elsinore's™ five strap alloy buckle chassis, stamped metal heel plate, and internal steel shank combine for a serious dose of moto-x homage. The traditional Goodyear™ welt construction mates the Icon street specific sole to the magnificent leather upper. A zippered medial entry zipper, borrowed from Paratrooper jump boots, is the only luxury the Elsinore will allow itself. A modern relic from an era when men were iron and tanks were steel, the Elsinore, old-school MX reinterpreted for the urban sprawl.
$245.00 - $265.00 Suggested Retail USD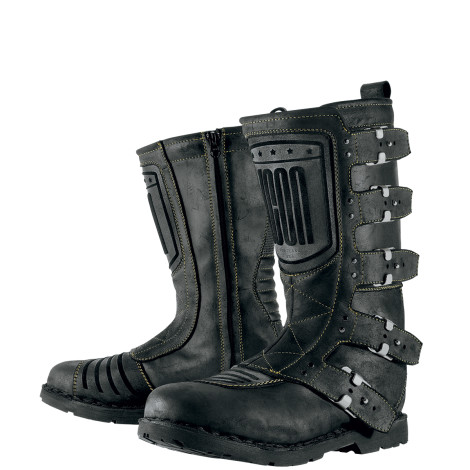 12" Top Grain Leather Upper
Goodyear™ Welt Construction
ICON Cast Metal Buckles
ICON Stamped Metal Heel Plate
Heat Pressed Leather Shifter Panel
Heat Pressed Moulded Leather Shin Plate
Internal Ankle Protection
Axialmetric Steel Shank
YKK® zippers

Do you have a question about this product?
Include your question or comments below.
We will reply as soon as possible.

I bought a pair of the black Elsinore Boots in August of this year and the liner in the heel portion is already worn down to the metal plate and has given me blisters, but I continue wearing them because I love Icon. I also have the short El Bajos which I wear on special occasions. I own nothing but Icon gear. I have three Icon Alliance helmets, an Overlord Prime and regular Overlord Jacket, Strongarm Pants, Leg armor and many more. I called Cycle Gear and asked if I was still under warranty and they said no it has exceeded their 30 day policy and I should try con acting the manufacturer directly. Is there anything you guys can do?

Thank you for your continued to support of ICON, we appreciate you reaching out. Cycle Gear is mistaken because all of our gear has a 1 year limited warranty. You should be able to receive a new pair because your issue is covered under warranty.

---