Alliance Harbinger
Just when you thought death had been done to death - we went ahead and drew this. The Harbinger™. Pronounced Har-Binge-Er, his toothy grin is but a sly reminder of every mans eventual fate. Scythe at the ready, he reaps what others have sowed. The final harvest. If this is your style of graphic, you will absolutely love this lid. If it isn't, please address your vitriolic disdain to our home office at rideicon.com. Drawing skulls is our business, and business is ridiculous.
$150.00 Suggested Retail USD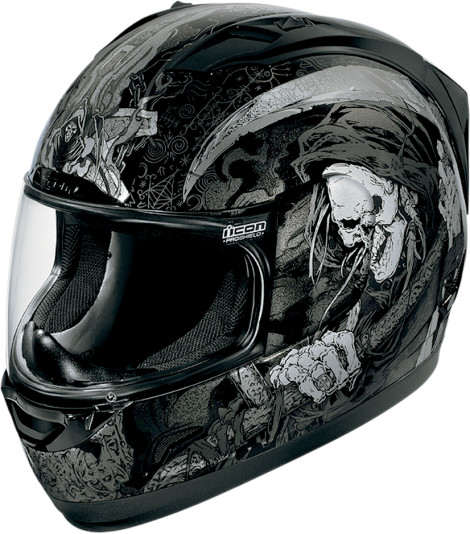 All World Standard, meets or exceeds the following DOT DMVSS 218(US), ECE 22-05(Europe), SAI AS1698 (Australia) & SG (Japan) safety and testing standards. Does not ship with SAI or SG certification stickers unless purchesed from an authorized dealer in that country
Injection molded polycarbonate shell for strength
Long oval headform
Wind tunnel tested and refined
Molded twin channel supervent for increased cooling
Rear exhaust ports prevent heat buildup
Removable molded breath deflector reduces shield fogging
Chin venting system reduces shield fogging
Fully removable/washable HydraDry™ interior
Quick-change fog-free Proshield™ with sideplates
Prolock™ shield locking system
Do you have a question about this product?
Include your question or comments below.
We will reply as soon as possible.

Hello i have the alliance harbinger helmet and one of the side plates popped off. how would i go abouts replacing it or ordering it. what part number would i use when i call it in thank you

Please go to your local dealer for new side plates. There was an issue with a small amount of Harbingers that made defective sideplates. The dealer should be able to take care of your issue for you.

---