Airframe Artist Series Manic
Those of a certain age may recognize the snarling chin bar grin from the ICON archives. Gone are the fiesta of colors, the greens and reds and yellows that made the Manic such a hit with the K-5 crowd. What is left is a pure skeletal form that reveals the Manic's true colors. A glossy bone matrix overlaid in black lines of nightmarish demarcation. Frantic scratching of one possible future. The Construct Manic: A ICON 1000 interpretation of beast mode.
$350.00 Suggested Retail USD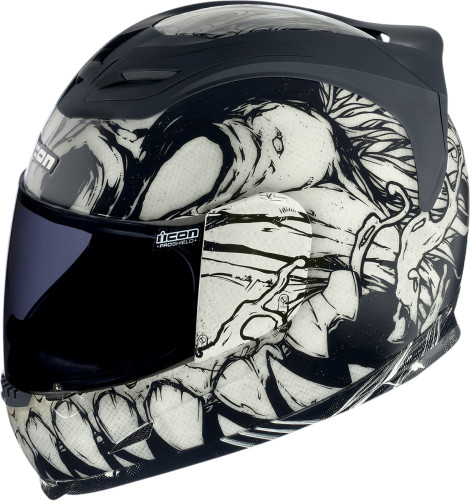 All World Standard, meets or exceeds the following: DOT FMVSS 218(US), ECE 22-05(Europe), SAI AS1698(Australia) & SG (Japan) safety and testing standards. Does not ship with SAI or SG certification stickers unless purchased from an authorized dealer in that country
Fiberglass/Dyneema/Carbon fiber shell
Medium Oval Headform
Wind tunnel tested and refined
Multiple oversized intake and exhaust ports
Removble molded breath deflector reduces shield fogging
Quick-change fog-free Proshield™ with sideplates
Fully removable/washable HydraDry™ interior
Rear spoiler for reduced helmet buffeting
Prolock™ secure shield locking system
Removable chin curtain
Dark Smoke shield included
Do you have a question about this product?
Include your question or comments below.
We will reply as soon as possible.

When is this helmet coming out and how much does it weigh??

The Airframe Artist Series Manic is available now. Weight depends on the size of the helmet, but a medium is 1580g.

---

Is this a Tanner drawn design?

The Manic is a Tanner drawn design.

---

What color shield does this helmet ship with?

All helmets ship with a clear shield per DOT regulations. Some helmets will include a Dark smoke or RST shield in the box. Check product details. And the product is in stock in both countries.

---

When am I able to buy this???

The Airframe Artist Series Manic is available now.

---

Can we pick different colors for this helmet design... like red and black?

Red and black are not available at this time, but we are always changing up colorway designs.

---

Bought this helmet about two months ago and I am very pleased. Have no problem when going at high speed, noise control is great as well as ventilation. Looks even better in person and I get plenty of compliments. Great job ICON.

Glad to hear you are stoked on the helmet.

---

Love ICON helmets! Out of all the brands I have tried, ICON helmets fit me the best! I have both the Construct and Construct Manic, Domain 2 Mechanica, Alliance Dia De Los Muertos, and have crash tested a domain 2 Devil Dog and Domain 2 Rubatone in the past. At 44yrs old and still street riding/track days I trust MY brain in these helmets 100%! Keep up the awesome job ICON!

Thanks for the support, glad to hear you like the helmets!

---