ICON 1000 Rimfire Glove
The Rimfire® is old-world styling, top-shelf materials and cutting edge technology. The Gunn cut pattern imbues the rimfire with a sophisticated rancher silhouette of years gone by. Constructed of select drum-dyed French cowhide, the Rimfire embodies the meaning of functional elegance. Pre-tensioned elastic in the palm reduces bunching. Integrated D30® knuckle armor and cadre of metal palm rivets provide a roadworthy pedigree. The Rimfire is a riding glove that captures the fortitude and grace of a more civilized era.
$90.00 Suggested Retail USD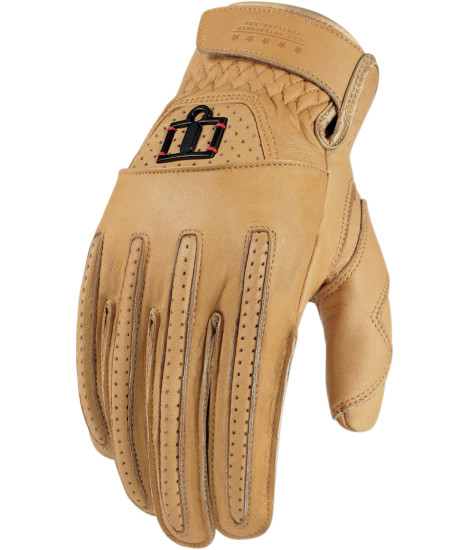 D30® armor in knuckle
Abrasion resistant premium grade french cowhide chassis
Floating Knuckle Construction for Flexibility
Secure wrist closure keeps glove in place
Pre-curved palm and finer design
Precurved palm and finger
Riveted palm has Nomex™ heat-resistant backing

Do you have a question about this product?
Include your question or comments below.
We will reply as soon as possible.

Hi, I am interested in getting a pair of ICON 1000 Rimfire Gloves for my boyfriend for his birthday. Is there a way that I can buy this online, or in any stores in Europe? I live in Madrid, Spain. I'm hoping for your quick reply. Thank you very much!

Yes, you can purchase the ICON 1000 Rimfire Glove from a physical dealer in Spain, or an online dealer from here in the U.S. All dealers in Spain can be found here: http://partseurope.eu/cms/en/dealer-search, and all online retailers can be found here http://www.rideicon.com/dealer-locator/. We recommend checking that the website ships internationally, though. Your boyfriend will love the gloves.

---